Hey there! It's been a while.
As you can tell from the title, I paused working on 20 Seconds some weeks ago. Now, in autumn, the Corona numbers prove me right; the exhibition and event industry will struggle to make it through a winter without in-person conferences. Online events are much less visited and not really accepted yet, from what I can tell. We're all spending too much time on video calls already, and we're still hoping to get back to normal soon.
The decision wasn't an easy one. I didn't see much sense in continuing with the sudden loss of a market, but I also felt uncomfortable to pause something I had just announced. This project was ought to become a success, not another pipe crap! But there was no point in continuing unmotivated. I kept looking for other opportunities.
In the meantime, the ordinary and supposedly unrelated family-life continued, unimpressed by my struggle.
A supposedly unrelated family-life story
My wife, Sarah, is an avid runner. While I was mulling over 20 Seconds, I followed her training.
She was suffering from an injury throughout the most of 2019. During injuries and as an alternative sport, spinning seems to be popular among runners. A US company, Peloton, was supposed to launch their bike in Germany soon and appeared on our radar. I felt that the total investment would be a little too much for a spinning bike, but I was convinced that it would end up in many single-family houses of the upper class. So I bought Peloton stock in September 2019. I reconsidered the investment in December 2019 when the company was mocked due to a sexist ad. Luckily, I decided to hold on to it, not knowing that a pandemic would force gyms to close soon. 2020, the stock price kept rising, slowly, but continuously.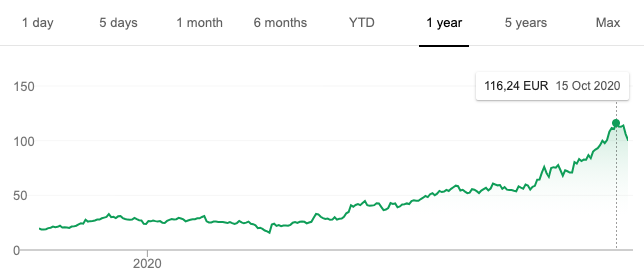 In the middle of 2020 there was still hope that the larger running events could take place. Sarah had successfully recovered and was hoping to finish her first Marathon in October. When she returned from her training runs, I regularly overheard her complaining that everyone must have started running after gyms were closed due to Coronavirus.
Sarah and I also kept talking about how we could improve our other project, Abnehmen mit Sarah (Weightloss with Sarah). Frequent questions we were getting there were: How did you start running? How should I start running if I am overweight? We were contemplating to offer running exercise plans tailored towards overweight people as an extra paid module on the platform, and we thought about asking her trainer for support in putting them together.
To summarize, individual exercise is a trend accelerated by the pandemic, noticable both on the stock markets and on the streets, and right now I would rather invest time and money into that than into huge in-person events.
What gives?
We kept thinking about the idea to offer running exercise plans, and we worked out how this could work inside of our existing platform. The more we thought about the idea, the more we saw potential for an entirely new product.
The other day, I was accompanying Sarah to a spiroergometry test at her trainer's place. While driving, I had a flash of inspiration and said: let's not just offer individualized training plans to runners; let's offer this to other trainers or gyms, too, so that they could share plans with their clients; it could bring added value to their offering, and it could be a great medium for those who are still sharing plans as Excel sheets.
We asked Sarahs trainer, Oliver, for support on that day, and he agreed. One thing came to another, several late evening calls followed where we narrowed down our product vision, and in parallel I started building an entirely new product. Oliver became part of the team and we agreed to start a dedicated company.
So, I have pivoted, and now I have told you.
Status Quo
On the technical side, a huge part of the mobile app is already done. I could reuse plenty of stuff I created for 20 Seconds, and I learned a lot while building that, so the app development went relatively smooth. The app communicates with a backend which keeps track of the available plans and exercises and each runner's progress. There's also an admin UI where we can administer the system and setup new plans or exercises. The actual plan structure is still read from Google Sheets because Oliver started creating with Excel. It's lean, and it works nicely.
The company is in the process of being registered. We contemplated whether a simple partnership would be enough, but we found a dedicated legal entity to be a better choice. In Germany, starting a limited liability company (GmbH) also means a certain investment for share capital, so it also underlines that all partners are serious about the endeavor.
The branding is already mostly done and we'll go live with our landing page any time soon. For the time being, we'll start with our local, German speaking market, but everything is prepared for localization if need be.
Personally, I am relieved that some other opportunity came up while I was struggling to move forward with 20 Seconds. And while I like working alone and on my own terms in my spare time, I also enjoy working with other people and I think it's only beneficial if we can split our efforts into our areas of expertise.
N.B. You can probably tell that my wife is a great inspiration to me and to others; she's awesome. Go follow her on her Instagram.
---
Photo by Ian Schneider on Unsplash.