Many things kept me busy the last weeks. Today, I write about another, already running side project.
You may have heard about the hey.com controversy in the last few weeks. Long story short, hey.com built an app for a subscription product, didn't want to let users pay through In App Purchases and lose up to 30% to Apple, got their initial release approved and a subsequent bugfix update rejected for violation of the App Store guidelines. Basecamp, the makers of Hey, used their social media and press outreach for a huge and effective outcry right before WWDC and eventually caused Apple to make some improvements to the App Store guidelines and also offer a way forward to get their app re-approved with some changes.
Before I move on, I'll show you something I was working on. Very proudly, I must say.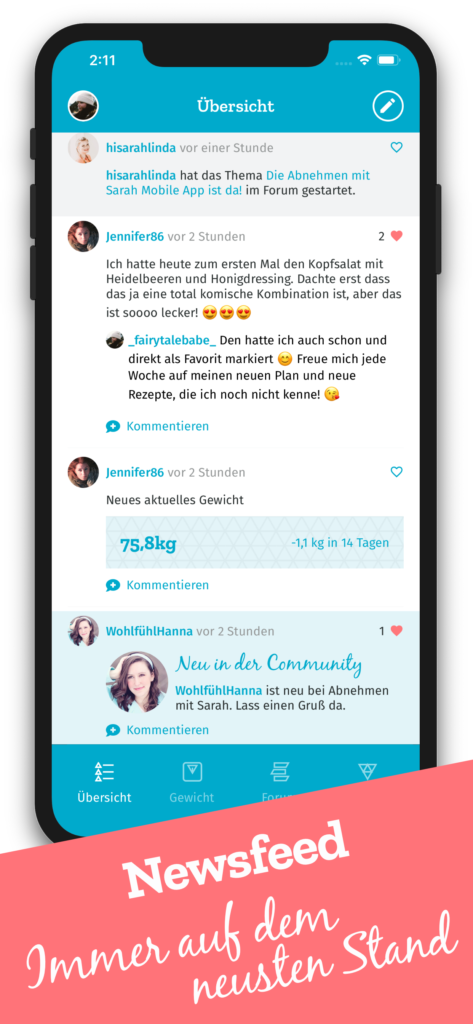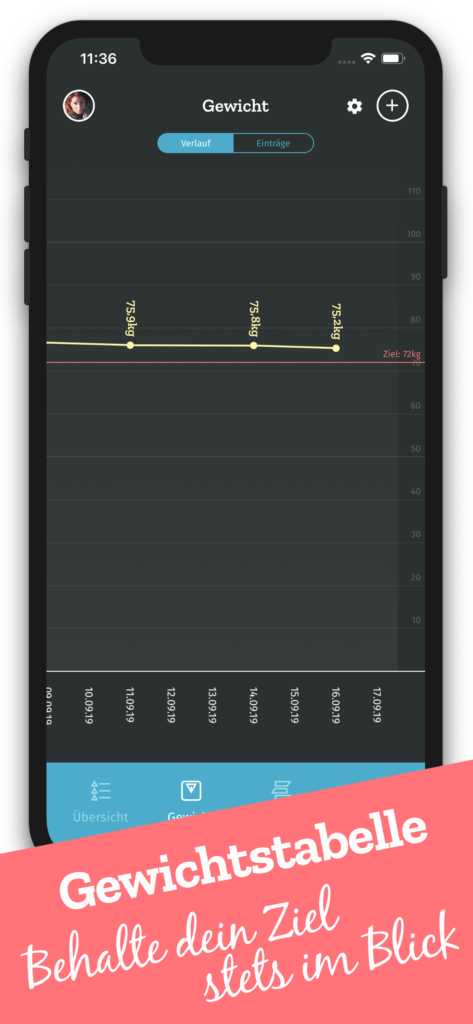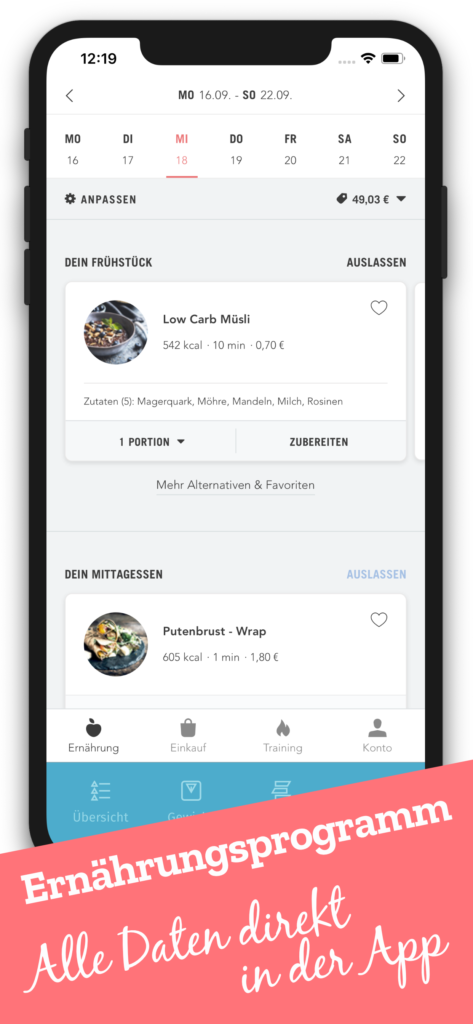 These are some of the App Store images that I had prepared. Ignore the fact that the texts are German, it's not relevant for my point.
The app hasn't made it into the store, yet.
I am not going into any detail but I think it's enough to say that I know Hey's problem very well, since October 2019 already.
The problematic part is the screenshot at the very right. It shows a personalized nutrition plan and it's a webview, displaying content from a 3rd party. But in order to get there, one needs to login in the webview first. The rest of the app is functional, only this screen requires a separate login. The app combines a community and some free tools with this franchised, paid feature. It exists as a web version since 2018 and it's one side business operated by the company I started together with my wife to combine all our families' efforts. (I'll write about that some time later.)
But since it's a franchise, users won't buy from our entity. The users conclude the purchase contract for the nutrition program with the franchisor, and it's outside of my control. While Hey.com could decide to offer In App Purchases (and maybe increase their in-app-purchase prices to make up for the lost commission), I don't even have this choice. Hey.com were allowed to publish an update if they offered an option for their users to test the service for free. I don't have this choice either.
Even though this is one of the most requested features by our community – a mobile app which combines all the things -, and even though it's built and ready to be published, I can't offer it.
It's a frustrating situation to be in.
But it doesn't end here. Someone in Apples press or developer relations department really screwed up with the message below.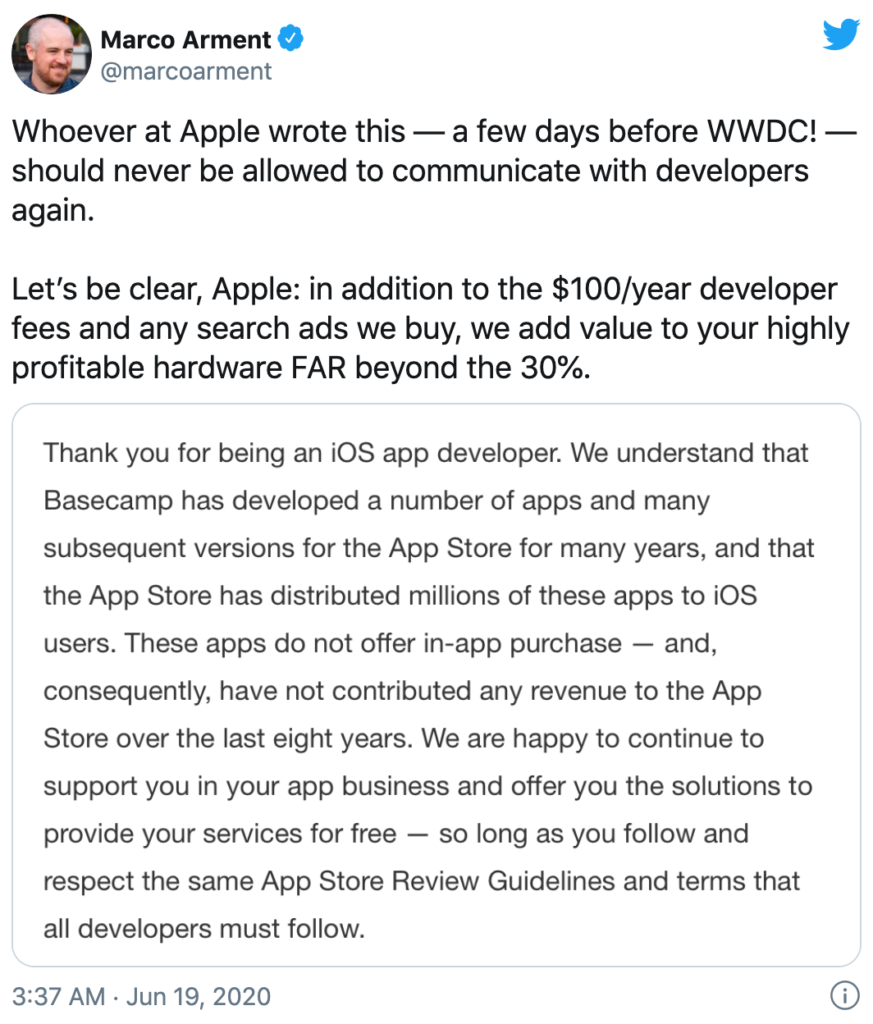 I still get nausea when I read this and I feel disgusted and incredibly helpless over a message like that. Developers who don't generate any direct revenue for Apple with their app (but pay a $99 fee per year, just saying) should be happy to be allowed on the App Store at all – that's how I read this statement. They don't seem to consider that any app which provides value to their users increases the value and attractiveness of the entire ecosystem.
I am writing all this because I needed some time away from 20 Seconds, and I decided to revive the mobile app above that didn't survive the October 2019 review. I had learned so many new things while working on the 20 Seconds mobile app and I also had to upgrade several packages that I nearly touched every source file in the end.
The tab with the 3rd party nutrition plan webview didn't survive my refactoring. Because I have no large following, no connections to Apple execs, and not the means to challenge another rejection. I am a solo developer scared of sanctions because I mentioned my app's rejection publically or calling out Apple. I'll have to deal with disappointed users instead, and the bad ratings that are coming with it. I am scared of uploading the next binary. That's the sad state of developer relations today.
But hey! I know I am not alone, and I hope that if not Basescamp and not Apple, maybe the EU Antitrust investigation of the App Store rules will lead to a change.
---
Photo by Markus Spiske on Unsplash